Janis Nowlan Band
Weddings | Parties | Events | Benefit Galas
Pennsylvania – New Jersey – Delaware – Maryland – New York – Connecticut
"I couldn't walk for two days!!! Because I spent my entire wedding on the dance floor. And I would do it again!"

"The energy and love was electric on that dance floor and we owe it to this phenomenal band."

I couldn't walk for two days!!!
Lydia M
"Because I spent my entire wedding on the dance floor. And I would do it again! The Janis Nowlan Band hit it out of the park! The dance floor was full all night – which was exactly what we wanted. And the quality of their performance and sound was second to none. We had multiple friends inquire afterwards for the name of the band – complete hit! On a personal note, Janis was amazing. She really got what we were looking for – a complete range in music genres. Everything from old standards to Motown to some funky 70's/80's thrown in for good measure. Not every band is up to the task, but Janis and her gang of maestros carried it off!!!! And I would book them again in a heartbeat. They even learned two new songs just for us! It meant the world! Thank you Janis! If music is an important element of your celebration and you want a dynamic band, look no further!"

Look No Further Than The Janis Nowlan Band
Heather R
"I will preface this by saying I am not someone who usually acts on hunches or gut feelings. I usually research the HELL out of things before making a decision, especially when it is a major spend. From the first time I spoke with Janis, I knew she and her band would make our wedding a personalized experience, something unique to me and my husband. We listened to a couple of videos online and read some reviews, but not a lot. And then we went to a showcase. This was the first and last showcase we attended. My now husband and I decided after their first set that the Janis Nowlan Band was the perfect band for our wedding. They are true musicians, not just wedding singers. Every single one of this 11 piece band is magnificent. Janis is both the bandleader and the clerk of the works — she pays attention to every detail to make sure song requests are honored, the wedding party and parents announced, and the party runs smoothly. In dealing with her in the months, weeks, and days leading up to the wedding, I would have thought that ours was the only wedding on their calendar! Our wedding was just a few weeks ago and the notes from guests are still streaming in — most of them comment on how amazing the band was! Everyone from age 8 to 85 literally danced from the get-go until the last note. So fun!"

"They had people up who NEVER dance, myself included, up and dancing the whole night."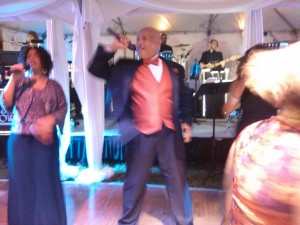 "From the first time I spoke with Janis, I knew she and her band would make our wedding a personalized experience, something unique to me and my husband."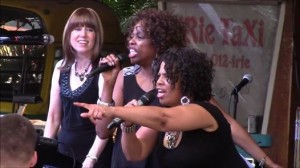 "We can't thank Janis and the band enough for making our wedding the party that we only dreamed it would be!"
Best Philadelphia Wedding Band!

"Everything went perfectly and our guests (many of them musicians themselves) all were raving about the band!"

"This is the best band! The Janis Nowlan Orchestra has been our band of choice for 8 years. Three weddings, special birthday celebrations, and a holiday office party were made more memorable because of this fabulous band."
"I cannot say enough about JNB's musical talent but what made the planning process and night all the more meaningful was the dedication and passion for excellence that Janis exudes. Her detailed attention and planning for our date made me feel in such good hands and her passion made it all the more fun and exciting!!"
10 Times Winner The Knot Pick Best Of Weddings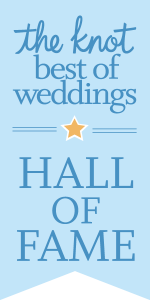 1st Philadelphia – Delaware Band Voted Into The Knot Best Of Weddings Hall Of Fame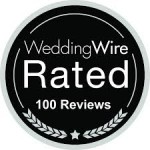 Bandleader Janis Nowlan Personally Helps You Fashion The Celebration Of Your Dreams From A Spectacular Repertoire Of Top Music Tailored To Your Event That Will Have You And Your Guests Dancing Non-Stop!
Featuring Outstanding Singers, Powerhouse Horns, Keyboards, Guitar, Bass, Drums, Percussion and Congas, The JANIS NOWLAN BAND Rocks The Latest Hits And  Irresistible Favorites Your Guests Can't Help But Dance To!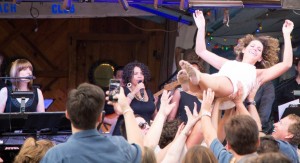 "Phenomenal Wedding Band! Janis, I don't know where to start, the band was beyond amazing! Hands down the best decision we made was choosing the Janis Nowlan Band to perform at our reception. Janis was so easy to work with and had great communication with us throughout the planning process. Janis and her team are incredibly talented musicians, entertainers, and also extremely professional.They did a phenomenal job keeping the dance floor (in this case sand) packed! Thank you for creating so many great memories for Joey and I and all of our guests! All of our guests said that we had one of the best weddings they had ever been to and a big part of that is because of the fantastic music! The band never stops to take a break and can play any request. I will never forget jumping on stage with my husband to dance to Pharrell's song "Happy"! I even crowd surfed in my wedding dress! Janis and her band kept the party going! Hands down best decision was choosing the Janis Nowlan Band! If I could give more than 5 stars I would! Thank you for everything"